Industrial Skateboard Trucks 5.5 Black Gold Set Of 2 Trucks
Brand New INDUSTRIAL SKATEBOARD TRUCKS 5.5" BLACK GOLD SET OF 2 TRUCKS

This product is in stock and ready to post to you.

Set of 2 trucks.

Industrial provide high quality skateboard equipment and accessories that are guaranteed for life. Unlike other skateboard companies that try to do it all, Industrial focuses mainly on skateboard trucks because they know it's the most important component for skateboard performance. They use pure metals and trusted manufacturing techniques to ensure their skateboard trucks never fall apart.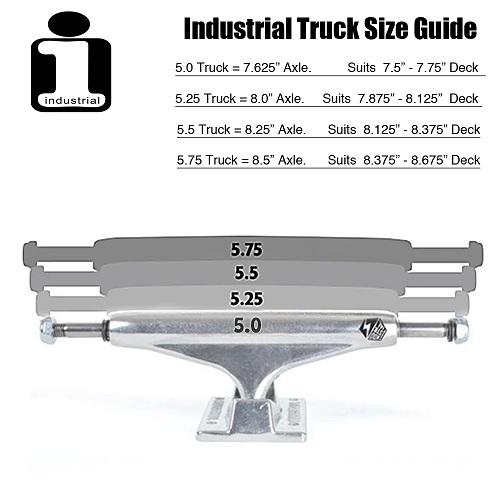 90 Day Returns
Money Back Guarantee
Afterpay & Zip Pay
Shop Now, Take Now, Pay Later
World Wide Shipping
NZ, USA, Canada, UK, Europe, ASIA + More
(INDTRKBLKGLD55)
SHIPPING COSTS
AUSTRALIA FREE SHIPPING on all orders over $49 (or $10 under $49).
$15 EXPRESS POST flat rate per order NEW ZEALAND EXPRESS COURIER $15 FLAT RATE or FREE SHIPPING on all orders over $99. WORLDWIDE EXPRESS COURIER $30 to USA/Canada/Asia and $60 to rest of the world. All orders are dispatched promptly after you place your order.
ESTIMATED DELIVERY TIMES
Delivery times below may be affected by delays due to Covid situation.
NSW - 1 to 4 working days ACT - 1 to 4 working days QLD - 1 to 4 working days VIC - 2 to 5 working days SA - 2 to 6 working days WA - 5 to 8 working days NT - 5 to 9 working days TAS - 5 to 9 working days NZ - 2 to 4 working days ASIA - 2 to 6 working days USA - 3 to 7 working days UK - 4 to 8 working days EURO - 4 to 8 working days
PAYMENT INFO
All payments are secure and protected by our sitewide HTTPS. We accept following payment methods; PayPal Visa MasterCard American Express Apple Pay Google Pay Afterpay - Buy Now Pay Later ZipPay - Buy Now Pay Later